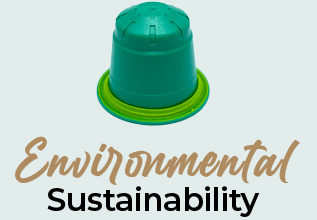 This is what we mean:
We are not trying to save the world. But we would like to play our part in improving it, giving it a better chance.
Our coffee capsules are made from plants. In our case, a by-product of the sugarcane plant. They are made into a form of plastic (known as PLA – Poly Lactic Acid – made without using fossil fuels such as oil) and moulded into a capsule shape to work in your Nespresso machine.
The key to this is that we can choose and control the start of life of our capsules. We choose plant-based materials to avoid the massive additional energy and toxic emissions generated in the production of aluminium capsules. Aluminium is a very recyclable metal. But at the start of it's life, it has to be dug out of hug holes in the ground. The environmental impact of this is massive. And every new aluminium capsule needs new aluminium. It is a very unvirtuous circle. And we don't like it.
We think our capsules just offer a better way. They come from carbon absorbing plants, require less energy to produce them and at the end of their life they either turn back into small amounts of CO2, water and biomass in industrial composting plants or are burned like a lot of waste and leave little trace on the environment.
Their footprint on our planet is much lighter!